Virtual Rubik's Cube
A downloadable game for Windows
3D software that simulates a real Rubik's Cube.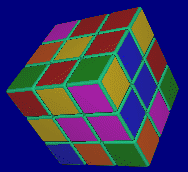 As a real Rubik's Cube, the program great improves your intelligence, logical thinking, memory, and, especially, your spatial imagination.
Additionally, there is a very interesting possibility to write a script that determines the rotation of the layers of Virtual Rubik's Cube.

In fact, the writing of these scripts is the most exciting way to get an idea about the basics of programming!